Men heeft het 5 jaar lang met kunst en vliegwerk kunnen uitstellen: het ineenstorten van de Nederlandse huizenmarkt.. (The collapse of the Dutch housing market)

In 2003 zag het er al naar uit dat er en flinke prijscorrectie zou plaatsvinden, maar die bleeft uit. Hoe kwam dat zo?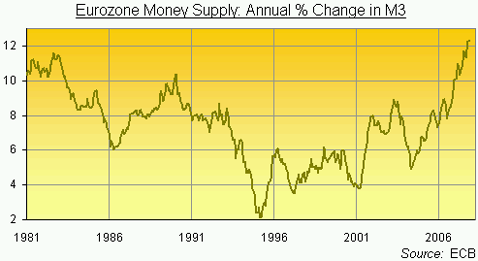 In 2003 hebben de centrale banken een recessie weten te voorkomen door de rente extreem te verlagen. Bij een lage rente wordt er erg veel nieuw geld gecreëerd (geldgroei). Dit is tijdelijk erg leuk, geld lenen is goedkoop en mensen die een koophuis bezitten zien de waarde snel stijgen.
Willem Middelkoop vertelt de 2e kamer wat er mis is.
De grafiek hierboven geeft aan wat het probleem van een te hoge geldgroei is. Na verloop van tijd zal de inflatie sterk oplopen. Inflatie wordt dus veroorzaakt door falend beleid van centrale banken. De ECB heeft als hoofdtaak om de inflatie rond de 2% te houden en als de men verwacht dat de inflatie hoog blijft moet zij de refirente verhogen om de geldgroei in te dammen.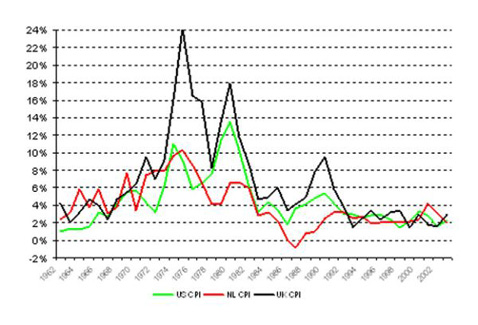 De inflatie in de VS, UK en in Nederland (rode lijn)
De duidelijke relatie tussen de hypotheekrente en de inflatie
De betaalbaarheid is nu lager dan eind jaren '70, toen daalden de huizenprijzen met 30%.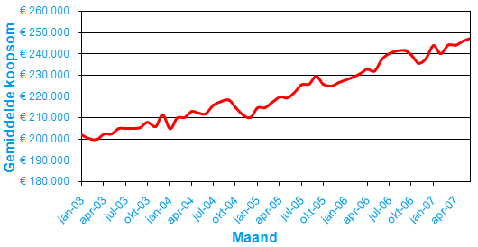 In de jaren 2003, 2004 en 2005 hanteerden een aantal grootbanken een zeer ruim hypotheekverstrekkingbeleid. Hoewel klanten er vaak de voorkeur aan gaven de rente 10 jaar of langer vast te zetten, was de hoogst mogelijk lening mogelijk door te kiezen voor een rente-vast-periode van 6 jaar. Hierbij was een hypotheek tot wel 9 keer het inkomen mogelijk.
De rente-vast-periodes van deze subprime hypotheken (risicovolle leningen) lopen in de komende jaren af. Omdat de 6 jaars rente in de jaren 2003, 2004 en 2005 gemiddeld slechts 3,6% bedroeg worden gezinnen geconstateerd met een maandlastenverdubbeling, waardoor zijn nauwelijks besteedbaar inkomen overhouden. Het is hierdoor goed mogelijk dat de huizenprijzen vanaf volgend jaar snel zullen gaan dalen, waarschijnlijk tot onder het niveau van 2003.
Nout Wellink neemt het woord geldgroei niet graag in de mond
Het onderstaande is in
het verdrag van Maastricht hebben de Euro landen afgesproken:
er naar streven de geldgroei (M3 * ) niet boven de 4,5% te laten uitkomen.
een inflatie beneden de 2% voor de eurozone.
Beetje jammer dat men zich hier niet aan houdt.
* M staat voor money supply en de 3 voor het tellen van zowel chartaal geld (munten en biljetten), giraal geld en depositos.